At the Y, we believe in freely offering the gift of hope to the people in our community who are experiencing or have experienced cancer. LIVESTRONG® at the YMCA allows cancer survivors the opportunity to come to the Y to heal. We provide people facing cancer rehabilitation the opportunity to regain strength and confidence through a safe and encouraging environment. Cancer knows no boundaries, but we believe in the strength of community and that every survivor deserves unconditional support and a chance to become stronger physically, spiritually and mentally.
WHAT IS THE LIVESTRONG®AT THE YMCA PROGRAM?
The YMCA partnered with LIVESTRONG® to provide a safe, supportive environment for cancer survivors to continue their healing and achieve their whole-person health goals. LIVESTRONG® at the YMCA is a free, 12-week program that meets twice per week for 90 minutes and focuses on physical exercise and social activities in a safe, supportive environment for strengthening your whole sense of self. By participating in the LIVESTRONG® at the YMCA program, you can experience:
Increased energy and ability to do everyday tasks
Improved muscle mass and strength, flexibility, balance and endurance
Increased confidence and self-esteem
Connection with and support from other cancer survivors and experienced, supportive coaches at the Y
To apply, please pick up an application packet from Member Services, or print out the following documents at home. After completing the packet, return it to Member Services, and we will contact you to schedule an intake interview.
 LIVESTRONG AT THE YMCA – Intake Form
Promis29_
Medical Clearance
Informed Consent
WHO QUALIFIES?
Participants in the LIVESTRONG® at the YMCA program are cancer survivors who are over the age of 18 and:
Are in or out of active cancer treatment,
Have a strong personal desire to improve their physical health and participation in daily activities,
Can commit to participation in the 12-weeks of classes, and
Obtain and submit a Medical Clearance for Participation form.
We understand that some cancer treatment is ongoing, and individuals who feel strong enough to participate during ongoing treatment are welcome to join with medical clearance.
DESCRIPTION AND GOALS
Small group, supportive environment
12-week program with two 90-minute sessions per week
Includes cardiovascular conditioning, strength training, balance, and flexibility exercises
Held in YMCA Wellness Center and Functional Training Room
Evaluation includes Functional and Quality of Life assessments before and after participation
Facilitated by YMCA-certified Instructors
Includes a free Family Membership
TESTIMONIALS
"The LIVESTRONG® at the YMCA program  is unlike any other exercise program because it is strictly for individuals who have battled, or may still be battling, various types of cancer.  It allows people to speak about their trials and pain on a level that the rest of the group can actually identify with.  Everyone is encouraged to try all of the exercise experiences, with the understanding that you are able to work at your own level – NO PRESSURE.  You will also create friendships and meet some wonderful people – at least that is how it was for me!  DO IT – YOU'LL LOVE IT!" – Suzanne, Graduate of the  LIVESTRONG® at the YMCA Program
"What LIVESTRONG® at the YMCA did for me was help me to realize I could push myself way beyond limits I thought possible. It made me feel better about myself, knowing what I had accomplished with the instructors help. I met new friends, ones that completely understand the struggles I have been through despite what type of cancer and degree. LIVESTRONG® at the YMCA is such a blessing. Thank you for helping me become a strong, more positive me . Thank you Waynesboro Area YMCA for being a place of encouragement and support. I couldn't have done it without all of you." – Denise, Graduate of the LIVESTRONG® at the YMCA Program.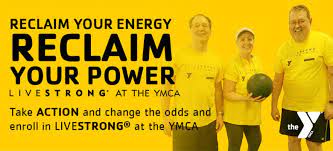 READY TO GET STARTED?
If you would like to be a part of our cancer survivor program, additional information and paperwork is available at the front desk. An intake interview will be scheduled prior to starting the program. We understand you may have questions or concerns. Please call or email, and we will be happy to speak to you about the program. To learn more contact the Y 717-762-6012
THANK YOU to the Waynesboro Area Gala Cancer Auction!
What is the Gala Auction? Since 1982, many volunteers and scores of donors collaborate to create one wonderful night to benefit local cancer related organizations. An annual "event" in the area, where several hundred people gather at Green Grove Gardens Event Center for the purpose of coming together to support those dealing with cancer in our community.
Over the last 39 years, we've grown from "Gala Cancer Auction" to the "Waynesboro Area Gala Cancer Auction" and have raised almost $2.4 million for the Oncology Bridge Fund and Hennessy House in Chambersburg, PA; Hope Lodges in Baltimore and Philadelphia; The LIVESTRONG Program at the Waynesboro Area YMCA; and the Four Diamonds Fund at Penn State Children's Hospital, Hershey, PA thanks to the generosity of those living in Waynesboro and the surrounding towns. All auction items are donated, the auctioneers donate their time and talent, volunteers donate their time to solicit, organize and work the night of the event, and supporters have a wonderful time bidding on items.
ADDITIONAL LIVESTRONG® RESOURCES
If you would like additional resources or immediate support check out the LIVESTRONG Foundation.
Thank you Waynesboro Area Gala Cancer Auction for your ongoing support!
Jill Kessler from  W.A.G.C.A. awarded the Waynesboro Area YMCA funds to continue to offer the LIVESTRONG at the YMCA program at the Waynesboro Area YMCA. Accepting the donation is the Y's Executive Director Amanda Geitka.