LES MILLS BODYATTACK
High-energy fitness class with moves that cater from total beginners to total addicts. We combine athletic movements like running, lunging and jumping with strength exercises such as push-ups and squats. A LES MILLS™ instructor will pump out energizing tunes and lead you through the workout – challenging your limits in a good way, burning up to 730 calories* and leaving you with a sense of achievement. 13 years and older.

LES MILLS BODY PUMP*
Strengthens the entire body and challenges all of the major muscle groups by using weight room exercises like squats, presses, lifts, and curls. Great music and a variety of weights will inspire you to the results you desire. Ages 13 and older. Beginner/Intermediate/Advanced
*Please note, this is a premium program which requires an additional fee
LES MILLS BODY COMBAT
An empowering cardio workout where your inner intensity is totally unleashed. This fiercely energetic program is inspired by martial arts and draws from a wide array of disciplines such as karate, boxing, tae kwon do, tai chi, and muay tai. Supported by driving music and powerful role model instructors, you strike, punch, kick, and kata your way through calories to superior cardiovascular fitness. Ages 13 and older. Beginner/Intermediate/ Advanced

Triple Threat
Keep your body guessing and the results coming with this unique blend of cardio intervals, resistance training, and core integration.
Pilates Core/Core Essentials
These classes fuse the principals of Pilates with the science of core training for a unique results-driven core workout.
YOGA
One hour of Yoga to assist in managing stress and illness, increasing flexibility, and promoting relaxation. Ages 13 and older. Beginner/Intermediate/Advanced
HOLY YOGA
Fundamental postures in a more up-beat class with an emphasis on strength, alignment and perseverance. Immerse yourself to explore your edge, discover and awaken your spirit. Be prepared to move, sweat, stretch deeply and breathe into a powerful physical challenge. At the same time, this practice will open you up to feeling gratitude, peace and joy. 13 years and older.
Spin/Spin Intervals
Choose the classic hour long ride, or challenge yourself with shorter, more intense interval training! Spin is low-impact calorie scorching cardio for all levels. Class size is limited.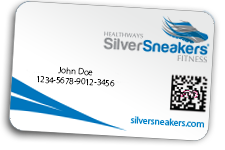 SILVER SNEAKERS: CLASSIC
Work on basic strengthening exercises from the seated position. The focus is on strengthening muscles and increasing range of motion without impact or over exertion. Chairs are provided. Specifically designed to meet the physical needs of seniors. 13 years and older.
SILVER SNEAKERS: CIRCUIT
The SilverSneakers Circuit workout offers standing, low-impact choreography alternated with standing upper-body strength work with hand-held weights, elastic tubing with handles and a SilverSneakers ball.  A chair is available for support. This class is suitable for nearly every fitness level and can be adapted depending on the skill of individual participants. 13 years and older.
SILVER SNEAKERS: YOGA
Get ready to move through a complete series of seated and standing yoga poses. Chair support is offered so you can perform a variety of seated and standing postures designed to increase flexibility, balance and range of movement. Restorative breathing exercises and final relaxation will promote stress reduction and mental clarity. This class is suitable for nearly every fitness levels. 13 years and older.
For more information on the Silver Sneakers program, click here.